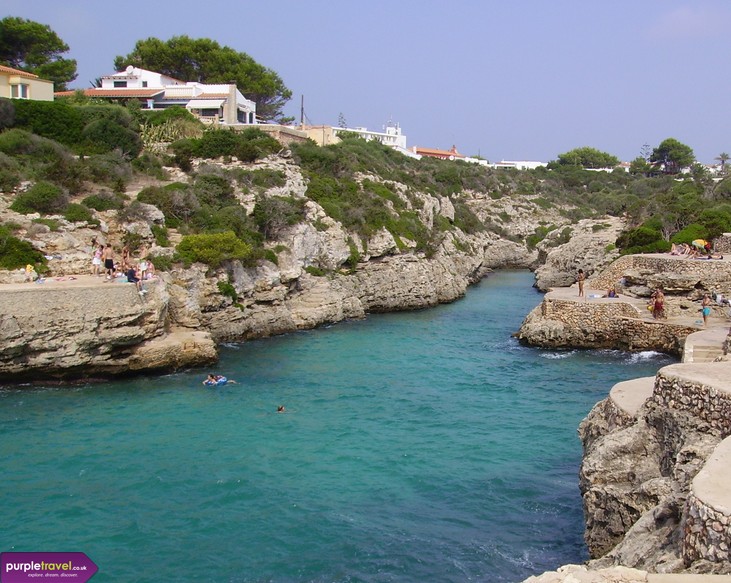 Cheap Holidays to Menorca
The quieter sister island to Majorca, Menorca offers the perfect recipe for rest and relaxation. Laze by the pool or on the beach and then stroll along the meandering paths to find a spot for a local favourite gin-based Pomada. We know it'll be a holiday to remember in Menorca in . Book the best value holidays to Menorca now with Purple Travel. Call our expert team today to grab hotels, flights and activities across the Mediterranean Island.
Where to Stay
Es Castell
Es Castell life revolves around the two harbours - Calas Fons and Calas Corb. Here you'll find easy-going bars, traditional eateries and souvenir shops. It's a charming seaside town just 15 minutes drive from Mahon, the capital.
Cala'n Bosch
Cala'n Bosch is a family-friendly resort that was purpose buil;t in the Eighties. It's a laidback place with whitwashed villas and a golden beach. The main attraction here is the marina that is surrounded by shops, bars and restaurants - it's perfect for laidback lunches and relaxing evenings.
Punta Prima
Punta Prima - Punta prima is one of the oldest holiday resorts on the island and retains an air of glamour and pretty beaches. There's easy access to the capital, Mahon from Puntas Prima and the white-sand beach means it's still as popular as ever.
Things to do
Nature
In Menorca you'll find a tranquil countryside made up of rolling hills and olive groves. Every now and then you'll see the landscape disrupted by prehistoric monuments that are dotted around. Climb mount toro if you're feeling adventurous for unrivalled views of the island.
Family Attractions
From hiking and horse-riding to diving and fishing, there's a whole host of great activities for all ages. For fun family days out there's two water parks in Menorca and a whole host of museums dotted around the island where you can learn about Menorca's rich history.
Nightlife
Menorca isn't renowned for its nightlife since it's dwrafed by Majorca and Ibiza for this however there are bars along Mahón's harbour open till 2am during summer weekends. If you want a full-on party head to the Coves of Xoroi - at night expect internation DJs that keep you dancing until the sun comes up.
Food & Drink
Sample some great seafood delicacies such as caldereta de llagosta, a lobster stew, or local ensaimada pastries. You'll also find Hispanic fare from tapas to paella. If you want a DIY meal, shop for fresh fish at Mahon's Plaça Espanya. Finish off a night sipping fomada, a gin and bitter lemon mix that locals love.
Weather
Summer temperatures reach the 30s in Menorca but spring and autumn are also popular times to visit especially if participating in hiking or sports where temperatures are a pleasant 20-24C and resorts a little less crowded.
Events
February Carnival
The start of Lent triggers Spain's carnivals where people indulge before giving up for lent. Head to Mahon for the best in parades and parties.
Festes de Sant Joan
This is a traditional event that takes place in Cituadella in Menorca each June. Horse owners parade their animals in the streets and crowds attend to see the owners show off their horses.
Mahon Music Festival
This music festival takes place in July and August and features mainly classical and jazz music but music of all tastes can be found.
You should read... Where To Go: Families