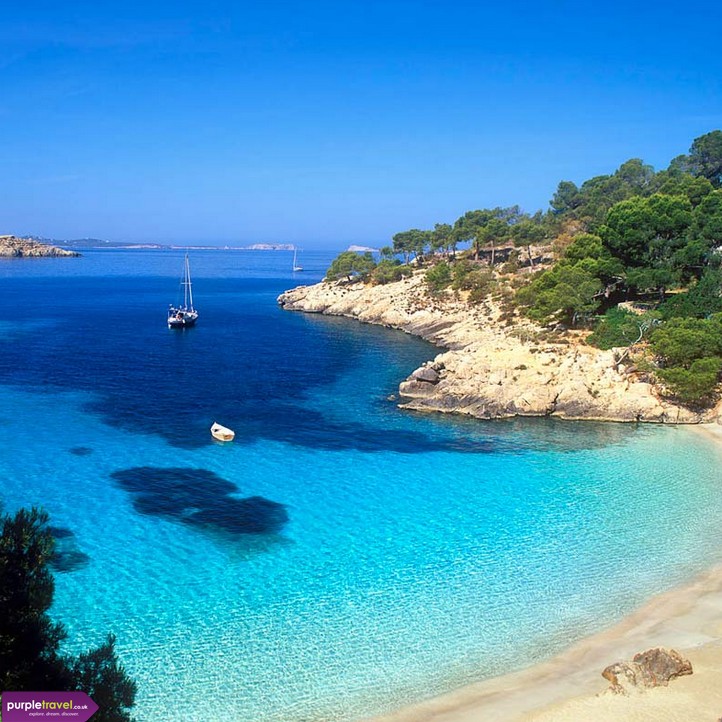 Cheap Holidays to Balearic Islands
With over 300 days of sunshine and five islands to choose from, the Spanish Balearic Islands make a great choice for an all inclusive holiday or last minute deal. With a rich history, colourful fiestas and fantastic beaches, there are plenty of reasons to take a trip to the Balearics. Choose Majorca for families, Ibiza for partying or Menorca for couples and discover a great cheap holiday in the Balearics this summer with Purple Travel.
Where to Stay
Majorca
Majorca has been drawing the tourist crowds for years now. It's got all the sand and sea that you want as well as a chic feel to it with its designer shops, swanky bars and mega yachts. If that's not your style then you can also get away from it all in little mountain villages like Deia and secret cove spots. Alcudia is a family-friendly resort for holidays in Majorca while Magaluf is where party animals should go.
Menorca
Days are slower here than in Majorca and Ibiza. Spend days lazing at the beautiful beaches and nights at candle-lit restaurants. A perfect place for rest and relaxation for friends and couples. It also makes for a great family holiday, consider a family-friendly getaway in Cala'n Bosch.
Ibiza
Ibiza does have an unrivalled party scene in places such as San Antonio town where you can lounge around cool bars by day and head to the superclubs by night but there's more to Ibiza than that. You might be surprised to learn that San Antonio Bay is quieter and perfect for family holidays and so is Santa Eulalia.
Things to do
Nature
Balearics holidays are much more than sun, sea and sand. Away from the golden beaches you'll find green landscapes of a wild, rugged nature. The Serra de Tramuntana of Majorca is a UNESCO site that dominates the north and west coastlines. In Menorca you'll find a tranquil countryside made up of rolling hills and olive groves. Every now and then you'll see the landscape disrupted by prehistoric monuments that are dotted around. Head inland in Ibiza and you'll discover pine-forests that can be discovered on a 4x4 safari.
Family Attractions
Marineland in Majorca is great for the whole family and so is the Aqualand El Arenal with slides and pools to suit all ages. The nature park La Reserva lets you see and learn more about bears, peacocks, and ostriches and also features climbing walls and zip-wire rides.
Nightlife
If it's clubbing holidays you want then the Balearics certainly don't disappoint. Ibiza nightclubs are legendary with clubs such as Space, Amnesia and Pacha among the biggest attractions in the islands. Balaric Island holidays for party lovers aren't just about Ibiza. Magaluf is also a big player, many people head to BCM, a place for all-night partying. For a little more sophistication head for marina drinks at Portals Nous.
Food & Drink
The Balearic Islands have a delicious Meditteranean cuisine, but of course you'll be able to find all your favourite foods with many international restaurants. Don't miss the chance to try the wonderful local pastries called ensaimades or head to a local tapas bar to sample a true taste of food culture.

Weather
Summer temperatures reach the 30s in the Balearic Islands but spring and autumn are also popular times to visit as they are a little cooler. Winters here are mild and a great time for a city break in Palma, Majorca.
Events
Angel Sunday
The Sunday after Easter sees Palma, Majorca host captivating celebrations. Think feasts, processions and lots of games for the kids - you'll also see people dressed as giants walking from the town hall to Bellver Castle.
Nit de Foc
If you're in Palma, Majorca in June then you won't want to miss the annual Night of Fire, one of the most spectacular events on the calendar in the Balearics and one that kicks off a summer of fiestas and parties.
Festes de Sant Joan
This is a traditional event that takes place in Cituadella in Menorca each June. Horse owners parade their animals in the streets and crowds attend to see the owners show off their horses.
Fiesta La Patrona
Battles are recreated in the streets of Pollensa in Majorca, marking the 1550 event where locals fought off pirate events. The event is celebrated in August and after the battles been staged is another reason to party.
New Years Eve
The clubs in Ibiza shut down for the winter but some open for one night only for New Year's Eve to ring in the New Year in a true Ibizan party way. If you don't mind the mild weather this is a unique way to end the year and start a new year in style.
Read more...Purple Tips: Europe's Best Music Festivals 2014