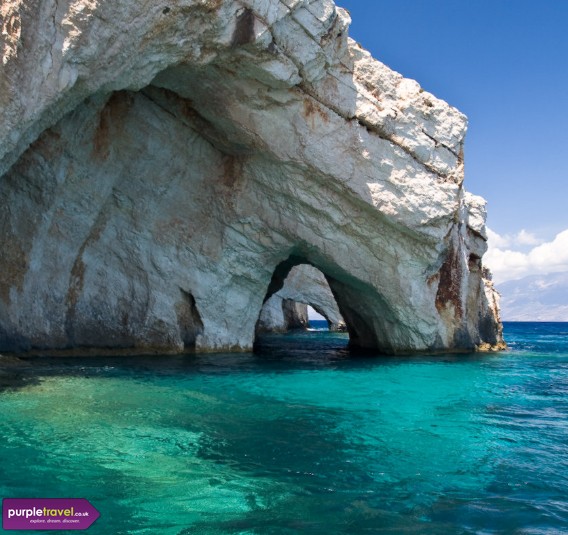 Cheap Holidays to Zante
You must have heard about cheap holidays to Zante or Zakynthos to go by its full name. The biggest of the Ionian Islands, Zante offers some of the best photography options – because it is one of the most idyllic places on earth! Take time to slow down to island life and leave more relaxed than ever, after an amazing all inclusive holiday in Zante. Book cheap Zante holidays now with Purple Travel.
Where to Stay
Laganas, Zante's most lively resort, is great for those who want to party the night away in the bars and clubs there. To top it all there's a wonderful 4km stretch to chill out on during the day. It is also still popular with families due to the spectacular beach, boat trips and loggerhead turtles. Numerous Zante hotels in the area provide for all inclusive accommodation depending on your budget and the activities along with its magnificent beach make it a prime spot for partygoers and family holidays alike. The only possible inconvenience might be that no watersports are available, however Agios Nikolaos beach that caters for almost everything watersport related is just a short bus trip away.
Alykanas is situated on Zante's north coast and is a small beach resort where the pace of life almost grounds to a halt. Right by the beach there's a newer part of the town catering for tourists, with little shops and laidback tavernas. A family holiday favourite, this relaxed place is far from the usual touristy madness seen in other resorts. A little further down the coast is Old Alykanas, with a church and pretty main square good for strolling around. If you are a fan of watersports, the Alykanas beach is a great place to be as it offers pedalo rides, banana boats and windsurfing amongst other activities. The small and friendly resorts in the area are well organised and mostly family oriented so do not be afraid to choose it if you are looking for a relaxing family island break.
Tsilivi is a laid-back resort perfect for family holidays in Corfu. There's a long stretch of golden sand and calm waters which are perfect for little swimmers. Away from the beach you'll find an amusing small waterpark that will keep your young ones splashing around happily, mini golf and loads of tavernas for some local tasty treats. If you fancy doing something different, the horse rides will satisfy everyone in the family. Nighttime entertainment options here are also family-orientated, keeping things mostly low key.
Things to do
Nature
Zante is a wonderful place to experience. Away from the beaches you'll find stunning hills and a mountain range. For something different why not go mountain biking in the hills or horse-riding along trails and sandy beaches. For an underwater adventure, try scuba diving and you might see some loggerhead turtles. Smuggler's Cove is also a must-see place while on holidays to Zante. It's only accessible by boat but is well worth it. It's a spectacular white-sand cove framed by 100 metre cliffs and lapped by turquoise waters. In the centre of the beach you'll find the shipwreck that gave this cove its name. The boat journey itself is worth a visit - you might catch sight of turtles and dolphins. The Blue Caves of Zante are also worth taking a boat trip to see. They're a series of small grottoes that cut into limestone cliffs. The colours here are an incredible neon blue and emerald green, caused by the light refracting from the water and the walls.
Family Attractions
There's always loads to do on Zante holidays. At the beaches you'll find a wealth of watersports like jet-skiing or banana rides which are fun for the whole family. Boat rentals provide fun for all and you can explore the stunning shores around the island at your own pace while jumping in the sea wherever you like. Zante hotels are usually located in close proximity to magnificent beaches so this is a definite must to visit instead of splashing around in your hotel pool. Zante has easy access to some other islands so why not spend a whole day on another island like Kefalonia for example.
Nightlife
Head to Laganas if you want to party all night. There's a wide selection of clubs catering to all music tastes. In Argassi and Tsilivi the night entertainment is a family affair with options such as karaoke, bingo, sports and films. There are some bars open until the early hours and one nightclub in Tsilivi if you really want to let your hair down. Zante town is lively and definitely worth a visit as its historical backdrops give way to buzzing vibes throughout the night.
Food & Drink
You'll find great seafood here if you like that plus also a variety of fresh and local produce. The best way to try and taste as much as possible is to order a sharing platter (mezedhes) which is made up of small plates of dips, fish, meat and vegetable dishes. If you want a taste of back home, you will be able to find both local and international cuisine in some of the resorts and towns throughout the island.
Shopping
Head to Alexandra Roma Street in Zante Town for clothes, shoes, jewellery and perfume. All over Zante you'll also be able to find handmade lace, rugs, local wine and honey which make for really authentic souvenirs of holidays in Zante. Keep some space in your luggage and you will be rewarded.
Weather
The weather in Zante is at its hottest in July and August, dipping into the low 30s. For cooler temperatures, visit out of high season where the weather still sits in the mid-20s and resorts are less busy. Flights to Zante from the UK usually start from May and finish in September but if you want to go there off peak season you will most likely have to transit to Athens first.
Events
St Dionysios Day
Come to Zante in late August and you'll find festivities in full swing, celebrating the island's patron saint, St. Dionysios. After the religious ceremony the island erupts with parades, fireworks, fancy dress and dancing.
Holy Week
Holy Week celebrations start on Holy Tuesday with traditional services. Meanwhile on Good Friday you'll find a procession taking place through Zante Town. Overall a great experience to be around as the festivities keep everyone entertained and joyful. Keep an eye out for open air events as well if you want to partake in the festivities.
Read more: Purple 10 Greek Party Islands