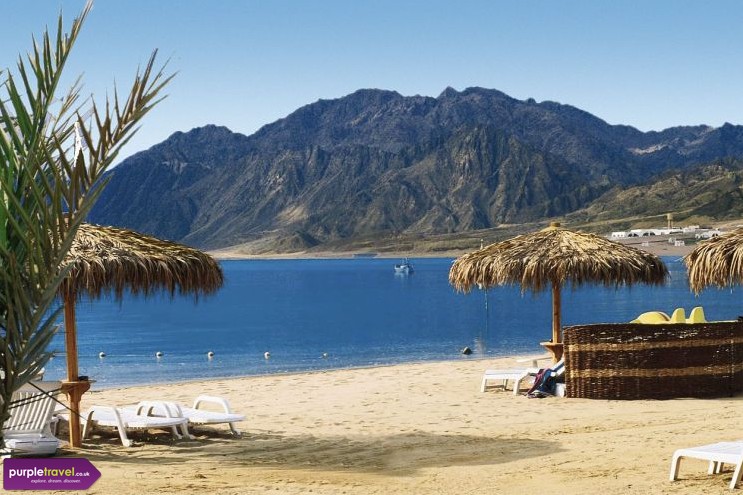 Cheap Holidays to Sharm el Sheikh
Visitors to Sharm (as it is locally known) have a wealth of choice when it comes to hotels, resorts, activities and beaches! Laze for your whole Sharm el Sheikh holiday and soak up the sun, or get active and try out some of the best water sports in the world such as water skiing or diving. After dark, you have plenty of bars and restaurants for checking out the nightlife. No wonder visitors to Sharm el Sheikh come back year after year. Don't forget if you plan to leave the main resort you will need to pick up a visa at the airport on arrival as they can only be purchased here.
Location
Sharm el Sheik is located on Egypt's Red Sea Riviera, at the southern tip of the Sinai peninsula. With breathtaking views of Mount Sinai, travellers come from all over the globe to see the famous glistening waters and incredible sand dunes.
Weather
The weather in Sharm el Sheikh is hot and dry. Summers are scorching with average temperatures of 35c but peaking at 45c while winters remain mild averaging in the 20s. During June and July you get a staggering 13 hours of sunshine in Sharm el Sheikh. As for the rain, from June to September rainfall is practically zero due to Sharm being practically located in the desert. Sunshine hours reduce in the winter to about 9 hours a day and there's a chance of rain one day a month.
Suitable for:
Couple, families and those looking for a great clubbing holiday all love Sharm el Sheikh holidays. Sharm el Sheikh holidays are also popular with divers due to the number of diving schools and the beautiful coral reef
Activities
Sharm el Sheikh has a plethora of things to do and caters for all tastes so a good time is guaranteed for all. Undoubtedly most people come to Sharm el Sheikh for the sun, sand and sea but people also come for the superior diving diving that gives you a unique view of the Red Sea and the wildlife that can be found there. There are regular boat trips to various diving spots off the coast too. A trip to Sharm wouldn't be complete without a visit to the stunning Ras Mohammed National Park that has a beautiful coastline that is full of wildlife.
If you like your adventure on land then you can also take a desert safari where local bedouin guides take your through the desert either on foot, by jeep or on a camel! Another popular activity is quad biking and many tour agencies will rent you one for the day.
By night you'll want to check out the restaurants and bars here if you've taken an all-inclusive holiday to Sharm el Sheikh then taste the food on offer at your hotel, otherwise there are many local eateries serving a variety of local and Western food.
If it's a party you're after then Sharm el Sheikh won't disappoint. There's a huge variety of pubs, clubs, casinos and bars plus for a unique experience there are also party boats to be found. Club-wise you check out Pacha – a huge place with its very own pool which regularly attracts big name DJs from over Europe.
Read more: Purple Hearts Sharm el Sheikh