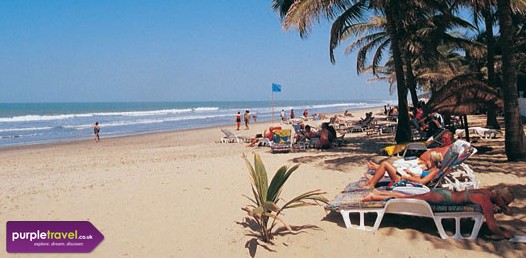 Cheap Holidays to Gambia
See if you can spot a pride of lions, or simply relax in year round sunshine, just a short flight from the UK. Cheap Gambia holidays offers the best of African adventure combined with a relaxing intro to beach life. A tiny country, the smallest on the African continent is named after the Gambia River, which flows right through the middle. English speaking and with no time difference to the UK, it's the perfect home away from home! Get the cheapest Gambia holidays from Purple Travel now, call our team now for Gambia flights and hotels.
Where To Stay
Kotu Beach
Kotu beach is just a small village resort that revolves around the sandy beach there and a single road where you can find hotels, bars, shops and a few handicraft stalls. If you're looking for entertainment in Kotu Beach, this is largely hotel-based and traditional. For golf-lovers the Faraja golf course is nearby as is a casino.
Kololi Beach
The beach at Kololi is a long, wide, sand & shingle beach with some cafés and beach bars. For evening entertainment head to the Senegambia Strip that buzzes with restaurants, beach bars and an amusement park.Nature lovers will love being close to the Bijilo Forest Park a major attraction in Kololi where you will get the opportunity to see monkeys.
Banjul Beach
Banjul is a small seaport on the River Gambia itself. During the day, Banjul is full of life and is a little more low-key at night. Banjul Beach has some restaurants and nature parks nearby and also features some large local markets that are perfect for bartering for authentic African souvenirs.
What To Do
Nature
Gambia is home to a whopping 39 forest parks, 7 national parks and reserves, 1 community wildlife reserve and 1 Ramsar-listed wetlands site, all perfect for getting up close and personal with the Gambian flora and fauna. Try the Abuko Nature Reserve where you can get close to monkeys, bushbucks, chameleons and crocodiles or the Bao Bolon Wetland Reserve which is famed for its migratory birds but also known for its dugongs, otters, hogs, antelope & hippos.
Shopping
Wherever you stay in Gambia you are sure to find traditional handicrafts at shops, stalls or markets. For those who love music, you won't want to miss the chance to pick up a Kora, a 21-stringed instrument that sounds like a mix between a harp and a flamenco guitar. You could also pick up some African drums, wooden marks, or tailor-made clothes at very good prices.
Weather
The best time to visit Gambia is from November to April when you'll get an average of 8-10 hours of sun a day with temperatures sitting comfortably in the mid 20s. Owing to the subtropical climate, from July - October the rain sweeps down and the temperature rises to high 30°C/low 40°C.
Events
Music
In early February the Kartong Festival comes to town and brings the village atmosphere of Kartong to life in a celebration of Gambian music, arts and culture.
History
Every 2 years in May, Albreda, a small fishing village hosts the Roots Festival which explores the history of Gambia and its role in the slave trade.
Read more: Purple Hearts Gambia