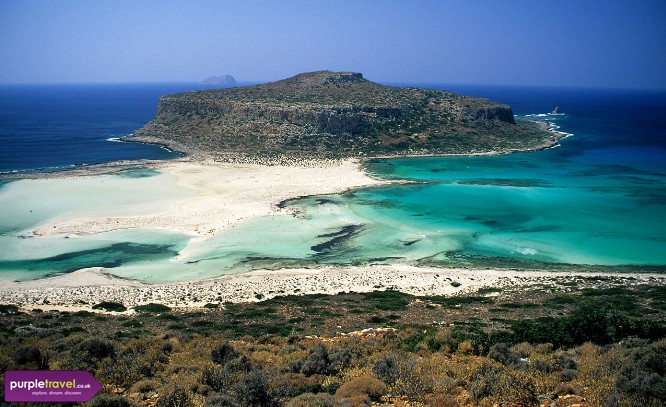 Cheap Holidays to Crete
The biggest island in Greece, holidays in Crete have something for everyone. Geographically, it's found slap bang in the middle of Europe, Asia and Africa so features a wonderful mix of cultures alongside year round sunshine. Crete perfectly combines continental and island characteristics, a fact that certainly is an indisputable advantage of this amazing place. Anyone looking for holidays to Crete that involve bar-hopping, lazy mornings at the beach and socialising with the friendly locals will love resorts like Malia or Hersonissos. For families the sun, sea and sand of Agios Nikolaos or Plakias and Sissi are ideal choices. Call our expert travel team now for more on cheap holidays to Crete and save money on flights, hotels, and transfers.
Where to Stay
Experience Elounda, a small resort that offers plenty of history and places to visit. Take a trip to Spinalonga island by boat to see the village ruins. The hub of activity in Elounda is found at the harbour where there is a lively restaurant and bar scene.
It's not for nothing that you've heard of Malia. This is where you'll find the legendary party cruises and live music sets from some of the music industry's biggest names. To top it off you've got six golden beaches for you to soak up the sun on and recover during the day before the partying begins all over again.
Sissi is small yet charming, offering a sandy beach, a shingle beach and access to other areas of the island. There's good dining options, with some excellent seafood restaurants that should not be missed plus there's a few shops and some nightlife here too.
Things to do
Nature
Head to Matala Beach and see the man-made caves that shelter the beach. Once the home to hippies in the 60s and 70s, these caves actually date back to the Roman times. This isn't the only natural attraction you'll find, dip into the waters with your snorkel and explore the Roman-era remains that exist there too. For a beach with a difference, Elafonisi Beach has pink sands - the colour comes from thoudans of years of crumbling corals that turn into sand-like grains. If you're up for it you should not miss the chance to hike Europe's longest gorge, Samaria Gorge. It's an 11 mile (18km) trek but it's well worth it for the spectacular scenery and can be done by anyone that's reasonably fit.
Family Attractions
Holidays in Crete give you the chance to see some of Ancient Greece's best preserved remains. Take in the palace of Faistos or go back in time to the bronze age at the ancient palace of Knossos where you can wander around the ruins of royal underground rooms, intricate pillars and colourful wall paintings. Crete also has some of the most beautiful waters in the whole of the Greek Islands so be sure to try out some watersports such as windsurfing and scuba diving. For a family-fun day out, a trip to the Limnoupolis waterpark could also be on the cards if you're not into watersports by the beach. Another unique way to explore the island could be by horseback. Hideen paths and ancient donkey routes gives you a real feel for Greek island life.
Nightlife
Partying on the Greek Islands really has it all, sun, sea, beaches and boat parties, nowhere is this more true than on Crete. Head to Malia or Hersonissos for young party crowds, party boats and buzzing beach bars. Other Cretan resorts still have their lively spots. Head to Chania or Rethymnon for traditional live music.

Food & Drink
The Greek Islands are the best place to sample the Greek cuisine but Cretan cuisine is a little different and has its own specialities. Try Cretan Plaki, fish baked with tomatoes and a lemony parsely sauce. For light bites try tyropites, these are crunchy filo parcels filled with feta and topped off with sesame seeds. Wash it all down with an ice-cold raki, a local spirit.
Weather
There's guaranteed good weather on holidays to Crete. The good news is that it starts to warm up in May and won't cool off until Mid-October so if you don't want to travel in the height of summer then you don't have to. Temperatures can reach up to the 40s in July and August around the coastal areas and south. As Crete is the largest Greek island, the weather does vary from place to place. The coastal areas and southern part of the island tend to be hotter. The central region which is quite mountainous is cooler with temperatures reaching the high 20s. Again winters are cold in the mountain areas but mild in the south and coast.
Events

Matala Beach Festival
Held at the end of June, this beach event is not to be missed. You've got famous bands performing underneath Matala's old hippie caves. Bring out your inner flower child here.
Traditional Cretan music
For a taste of traditional Cretan music make a stop at Rethymno, a hub for traditional Cretan music, dancing and folklore.
Read more: 7 facts about Crete