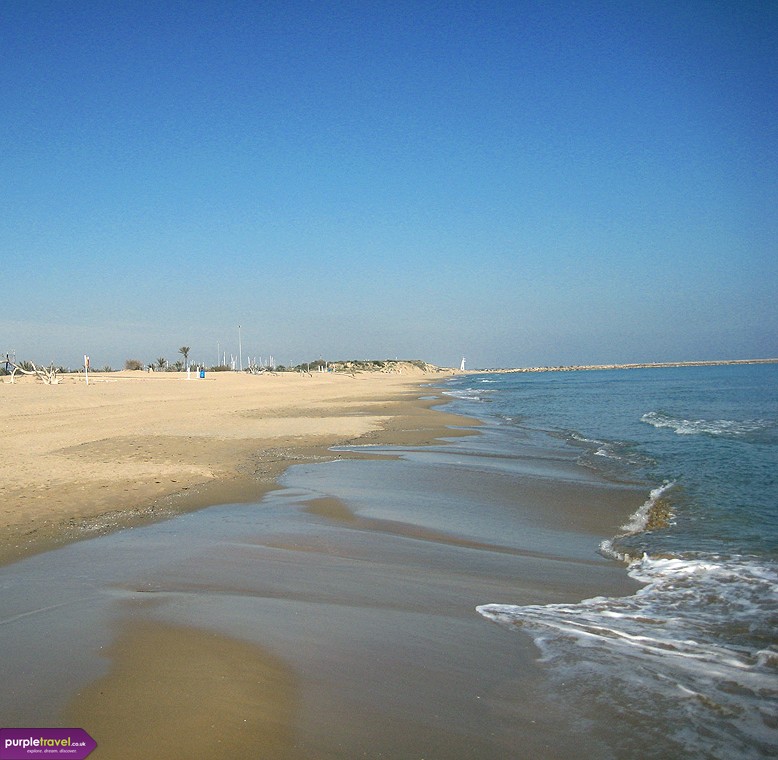 Cheap Holidays to Costa Blanca
You know when a place gets lots of visitors every year they are doing something right. Take a trip to the Costa Blanca where beautiful beaches, friendly locals and great deals await you. You'll find all you want from a holiday in the traditional surrounds of the Costa Blanca. You've probably heard about resorts like Benidorm, Albir and Alicante – because they are some of the best around. Offering beach breaks, warm sunshine and delicious Mediterranean food at a very reasonable price, the Costa Blanca is a great place to start your holiday. Book your cheap holiday to the Costa Blanca with Purple Travel today.
Where to Stay
Benidorm
It's not for nothing that Benidorm became the big cheese of Spanish resorts. It's got sandy beaches, fun-packed nightlife and a history that's there if you choose to discover it.
Javea
Javea sits in the shadow od Montgo Mountain. This little slice of heaven has an old town with the Medieval church sitting firmly at the centre of town with shops, cafés and restaurants filling up the surrounding cobbled streets. At night you'll find entertainment in the form of local and international bands. And as for the beaches , they're Blue Flag making Javea great for families with kids.
Denia
If it's authenticity that you want then Denia is the place to go. You'll find traditional seafood restaurants lining the beach with colourful fishing boats bobbing in the bay. In the town centre you'll also find a thousand-year-old castle. But if that sounds a little too sleepy for you then fear not, there is a cosmopolitan marina that is lined with bars and designer boutiques along the tree-lined street Carrer Marques de Campo.
Moraira
At the northern tip of the Costa Blanca is Moraira, a former fishing village that's grown to be quite the holiday place. This is where city dwellers from Madrid come to relax on holiday and at weekends and you can see why with beautiful tree-lined streets and excellent seafood restaurants.
Things To Do
Nature
Test your nerve for heights in Guadalest, a village that's 30 minutes drive from Benidorm and is perched on top of a cliff. It was once a military outpost but now houses museums and lace shops. If you want to see some amazing waterfalls then you won't be disappointed with Costa Brava holidays. Head to the Algar waterfalls and spend your time hiking along cascades, on some tours you can get the chance to turn the waterfalls into a natural waterpark by jumping in see-through rock pools, swimming along narrow channels and dunking your head under white-water falls. For animal encounters try Terra Natura a wildlife park that has done away with traditional cages and bars so you can get inches from the animals separated only by almost invisible glass barriers.
Family Activities
Waterpark fans will love being close to the Aqualandia waterpark in Benidorm. You'll find white-knuckle chutes with kamikaze drops - try the Big Bang, Europe's highest waterslide. If you're not a fan of the big slides then float down the lazy river, bob up and down in the wave pool or splash around in the pools. For thrills on dry land head to Terra Mitica, also located in Benidorm. It's Spain's answer to Thorpe Park with exhilirating rides such as the Flight of the Phoenix which freefalls from 54m in the air.
Weather
At the height of summer, temperatures can reach about 27°C and remain dry while spring and autumn are still warm and equally good times to visit. Winters are still sunny and dry, they're not overly warm but tend to average around 17°C.
Events
Bous A La Mar
Rather than running away from the bulls, each year in August people in Denia chase the bulls with the goal of herding them into the sea. This main event is the end of the town's summer festival.