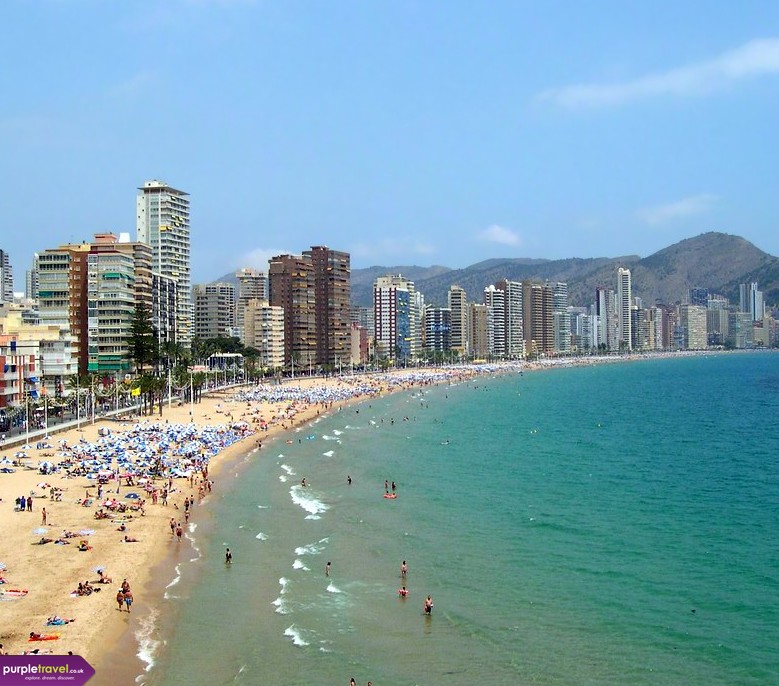 Cheap Holidays to Benidorm
A favourite with sunseekers, Benidorm has a reputation for being a holiday hotspot and it's easy to see why. Benidorm has all the comforts of home, combined with the sun, sea, sand and fun that it's become famous for. Choose from three gorgeous Blue Flag beaches; Levante, Poniente and Malpas where water skiing and sunbathing is the usual. A top notch round of restaurants suits all budgets and ages, while clubbers can head to some of the best nightspots in Europe to dance the night away. Book cheap holidays to Benidorm today with Purple Travel. Call us for details on family, group and couples holidays in Benidorm this year.
Things to do
Nature
Get out and about and see Guadalest, a village that's a 30-minute drive from Benidorm and is perched on top of a cliff - it might not be for you if you have vertigo. It was once a military outpost but now houses museums and lace shops. Animal lovers really wouldn't want to miss Terra Natura, a wildlife park that lets you get really close to the animals, separated only by almost invisible glass barriers. If you fancy a break from the touristy madness during your holidays in Benidorm you could always take the Alicante tram and travel along the stunning coasts and resort towns around Costa Blanca.
Beaches
But of course the famous Benidorm Costas are the place to be. The golden sands, Shallow waters and multitude of activities will make them hard to leave behind without wanting to return. Benidorm hotels owe a large part of their success on the beaches and as such there is a large number of sun loungers and sunbeds to work on your tan comfortably. These magnificent stretches of fine sand are also cleaned up daily, thereby maintaining their well-deserved blue flag status.
Family Activities
For those who love the thrill of waterparks then a visit to the Aqualandia waterpark in Benidorm is a must. There's white-knuckle chutes with kamikaze drops - try the Big Bang, Europe's highest waterslide. If you're not a fan of the big slides then float down the lazy river, bob up and down in the wave pool or splash around in the pools. For thrills on dry land head to Terra Mitica, also located in Benidorm. It's Spain's answer to Thorpe Park with exhilarating rides such as the Flight of the Phoenix which freefalls from 54m in the air. If you prefer animal parks and zoos instead, Mundomar will certainly have you covered. The dolphin show is a spectacle to behold and the animals are looked after very well.
Shopping
From prohibitively expensive boutique shops to vivid and cheap bazaars, there's always something to tickle your shopping fancy around Benidorm. For fans of leather accessories, go to the Passeig de la Carreterra and an alley will take you to a small square brimming with shoes, bags belts and anything in between made from fine Spanish leather. If football is your thing and you happen to like FC Barcelona, the official store will provide you with lots of accessories to take back home after your holidays in Benidorm.
Sports
For those who want to combine their Benidorm holidays with a rush of adrenaline, the activities on offer range from snorkeling to waterskiing to hiking on the Valencian mountains nearby. The seaside shops have all the equipment you might need for rent or sale, so don't worry if you forgot your scuba mask or lilo back home.
Weather
At the height of summer, temperatures around Benidorm can reach about 30°C but normally average in the top 20s and remain dry while spring and autumn are still warm and equally good times to visit.
Events
Having your holidays in Benidorm is a great opportunity to partake in one of the 55+ fiestas throughout the year. The party is almost constantly on in this resort town so here are some of the best yearly events to keep an eye out for while lounging on the Benidorm Costas.
Fallas
Originating from Valencia and popular throughout Spain, the Fallas festival is indeed a special occasion. Celebrating the coming of spring comes with the essential festivities where people light up highly decorated statues made of wood in the streets and live music acts and shows take centre stage. The fireworks displays are all the rage and this is definitely an open air fiesta that will make your holidays in Benidorm even more special if you happen to be there during the 16-18th of March.
Elvis in Benidorm Festival
The King is not dead, in fact, he turns up in Benidorm every year in April or May, without fail. Four of Benidorm's bars transform into themed venues and host some of Europe's top Elvis impersonators, providing over 14 hours of live music each day.
Hogueras de San Juan
This week-long event culminates on 24th June with figures made from papier-mache burning on a bonfire. After the burning and fireworks, the party really starts and the eating, drinking and dancing goes on through the night.
Last but definitely not least, the Moors and Christians festival throws you back to the 15th century by celebrating the long awaited freedom of southern Spain from the Moors. Both shiny knights and exotic moors parade on the streets and cross swords in mock battles contrasting historically with the modern Benidorm hotels in the background. Definitely something wonderfully different to be experienced if you happen to be heading to the renowned Benidorm beaches around the last week of September.
Read more: Purple Hearts Benidorm