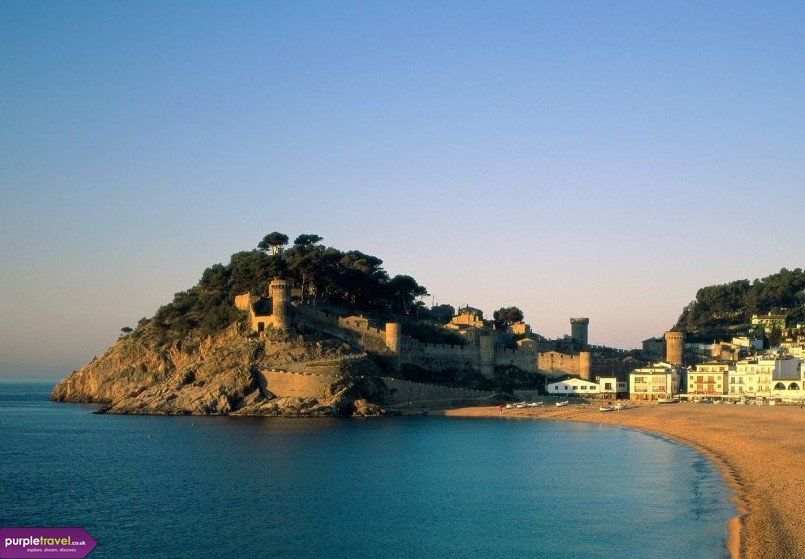 Cheap Holidays to Costa Brava
Make the most of beach life with a trip to the gorgeous Costa Brava today. Becoming more popular with visitors all the time, the Costa Brava maintains its charming and traditional image, combining it with a relaxed atmosphere and great facilities. Lie by the pool, stroll on the beach or if you are feeling in the mood for something a little different, check out the selection of great Salvador Dali museums nearby. Talk to one of our Purple Travel advisers now to get the best deals on holidays to Costa Brava.
Where To Stay
Pineda de Mar
Pineda is a beautiful town on the same coast as Calella, the Costa del Maresme. You'll find everything you need here for a relaxing holiday so it's perfect for holidaymakers looking for a lazy break. You'll find restaurants, bars, shops all on your doorstep without it being overwhelmingly touristy. Locals can be seen in the evening taking a stroll through the pretty main squares, tree-lined streets and whitewashed houses.
Tossa de Mar
Tossa de Mar features 2 big beaches to share your time between. Plus it also makes a great base for exploring the surrounding valleys and mountains. Back in the town you'll find loads of Catalan atmospjhere to soak up in the old town. Thuink cobbled streets and traditional houses - there's even an ancient castle.
Calella
Calella or Callela de La Costa as it is also known is a place of two halves. There's the traditional old quarter of town as well as a bustling town centre and beach. There's a friendly and laidback atmosphere here with the bars and restaurants geared towards a relaxing holiday. There discos and clubs too if thats what you want, as well as a pedestranised shopping street.
Things To Do
Nature
You'll find the waters of the Costa Brava perfect for scuba diving and exploring nature underwater. Above sea level head to the Santa Clothilde gardens just 10 minutes drive from Lloret de Mar and there you will find a series of Italian Renaissance styled gardens set on hillside terraces. The hills around Lloret de Mar are ideal for self-exploration as walking trails wind all the way along the coast.
Family Activities
Costa Brava is the perfect place to base yourself if you're thingking of heading to Port Aventura - Spain't biggest theme park. It's a fantastic family day out with white-knuckle rides and spectacular shows that are suitable for the whole family to enjoy. If you want something more water-based then Costa Brava has not one but four waterparks to choose from. There's Waterworld near Lloret de Mar with some white-knuckle chutes, Aquadiver in Platja d'Aro with a gigantic wave pool. There's also Isla Fantasia near Barcelona and Marineland near Blanes.
Weather
At the height of summer, temperatures can reach about 28°C while spring and autumn are still warm and October especially can see some rainy days. Winters are still sunny and dry, while they're not overly warm they beat the weather in the UK hands down.
Events
Lloret de Mar Fiesta
Late July is a great time to head to the Costa Brava as you can catch the Lloret de Mar Fiesta. In th day floats parade through the streets and people dress their boats for a procession in the sea. At night, fireworks are let off before people dance the night away in the streets.
Read more: Family fun tips in Costa Brava