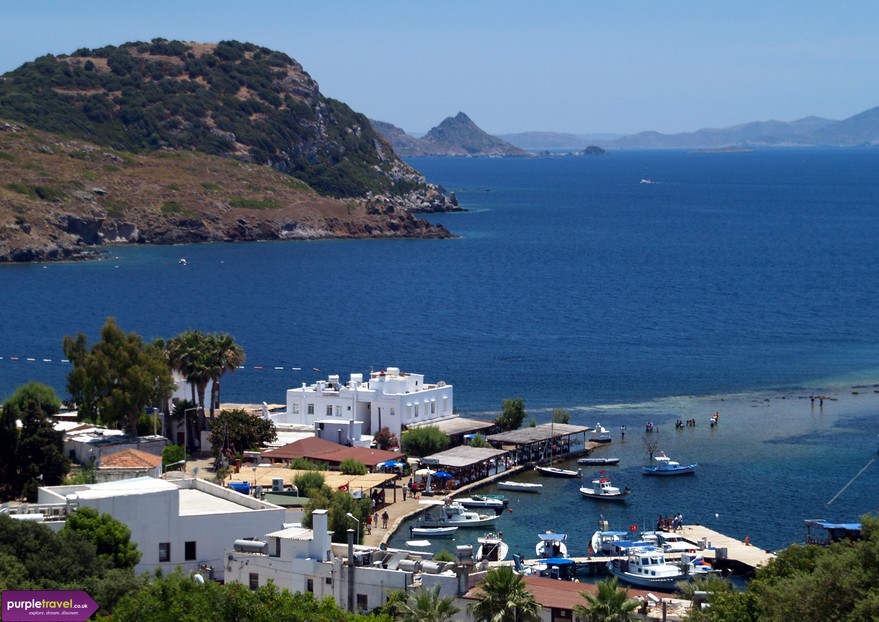 Cheap Holidays to Bodrum
One of the gems of the Aegean, cheap Bodrum holidays combine the fantastic buzzing nightlife Turkey is famous for, with average summer temperatures of 35 degrees creating a dream holiday destination. With plenty of white sandy beaches, crystal clear waters, kids activities and bars and restaurants, Bodrum has it all. Cheap holidays to Bodrum include brilliant beaches at Ortakent or Bitez, the incredible natural hot springs at Pamukkale and even a camel wrestling festival! Book cheap holidays to Bodrum with the expert team at Purple Travel on 0207 993 9228.
Where to Stay
Bodrum Resort
Bodrum resort is one of the prettiest resorts in Turkey. You'll find narrow lanes and unique sugar-cube style houses that make perfect surroundings for beach holidays. Bodrum is perfect for a relaxing holiday but if you want to turn up the heat you'll find plenty of opportunities to party in Bodrum too.
Gumbet
Gumbet is quite a trendy resort equipped with plenty of restaurants, bars and a beach for lazy days while the volume gets turned up a bit when the sun goes down and Gumbet takes on a party atmosphere. A former fishing village, Gumbet is now one of Turkey's most popular destinations for holidays.
Altinkum
Altinkum is a fun and lively beach resort which has grown quite quickly recently and has merged with the neighboruing town of Didim - a place with thousands of years of history. So it's great for combining a beach holiday with a bit of culture thrwon in too. Alktinkum means golden sands and with three amazing beaches, it's no wonder that it's popularity is rising but it's not just for the beaches that it's popular, there's also a bustling bazaar and great nightlife here.

Things to do
Nature
Ride horseback in the villages and mountains or see underwater life by diving in the warm Aegean waters where you'll see beautiful sponges and coral beds. If you're a newbie then you'll find lots of schools to give you an introduction to diving in a safe environment, while more experienced divers will be able to explore shipwreck's, caves and tunnels.
Family Attractions
There's plenty of water sports in the Bodrum area like windsurfing and waterskiing but diving and snorkelling are also great ways to explore the Bodrum waters. Inside the Museum of Underwater Archaeology you can see shipwrecks with their treasures on show or wander around the reamains of the Mausoleum of Halicarnassus - one of the Seven Wonders of the Ancient World. For exhilirating slides and rides head to the Bodrum Dedeman Aquapark for a fun-fuelled family day out.
Nightlife
In Bodrum you'll find Turkey's only floating disco, the Club Catamaran with a glass-bottomed boat or dance the night away at open air clubs like the renowned Halikarnas - the world's largest open air club with a capacity for 5000 people.

Food & Drink
You'll find traditional restaurants in the Bodrum area, some with entertainment thrown in as well such as belly-dancing. There's also many other cuisines represented in Bodrum so if you fancy Mexican, Indian, Italian then you can have that as well. For a trendy dining hotspot head to the marina in Bodrum and dine in the open courtyard. For more laid-back dining head to the Gumbet waterfront for a family meal out.
Shopping
Bodrum is great for shopping. Hit the weekly indoor market for souvenirs. Down in the city centre you'll find jewellery shops and fake designer shops. More upmarket shops can be found in Karada Marina selling clothes and jewellery.

Weather
Spring and autumn provide comfortable temperatures in the mid-20s which is great if you're into exploring whereas between Juen and August temperatures will reach the low 30s, perfect for topping up your tan and cooling off in the sea.
Events
International Bodrum Ballet Festival
Taking place at the Castle of St. Peter from late July to early August, this is a unique opportunity to see international dance groups in a spectacular environment.
Read more: Purple Hearts Bodrum